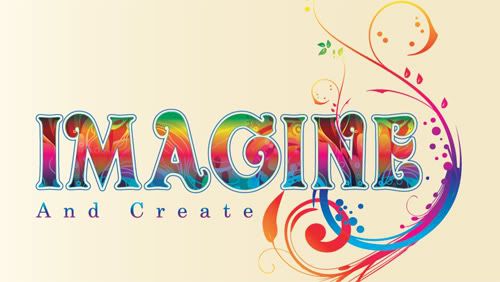 In this tutorial I will show you how to make a cool colorful text effect using a vector image. This tutorial will focus on showing you the technique, cause I think, once you know the technique you can explore and experiment it further to suit a type effect or a project that you're making. Apart from the text effect, in this tutorial I will also show you:

how to offset the stroke or the double stroke in text/type
how to use appearance palette and blending mode
and will give you some tips along-the- way
So without much a do let's get started.....

First thing first, open a New Document in Illustrator, write down some text with Type Tool (T). I wrote the word, "IMAGINE", I adjusted it's kerning a bit, so that there is enough space between each letters. Colors of fonts etc. is not much important at this stage, so choose any.

Tip: Select a lil thick or broader font for this text effect. Also, keep the loose kerning between each letters, so that when we apply the offset strokes, the letters don't get mixed up.







Select a Vector Artwork/Image


Next, select any vector image, you can use any of your own artwork or any vector image that you have or from sites like iStockphoto, Shutterstock or from the free vector resource sites like Vecteezy etc.

Also,for this text effect you can even use a raster or bitmap image as well, but I will highly recommend you to use vector image, so that our text is in pure vector format. For the purpose of this tutorial I used the image shown below from Shutterstock. I like how colorful and abstract it is.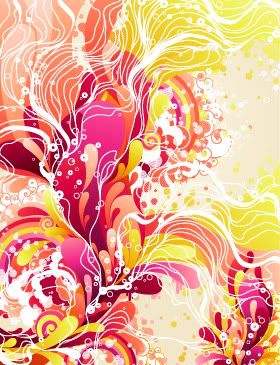 I select the entire artwork (Ctrl/Cmd + A) with Selection Tool (V) and copied it, Edit > Copy (Ctrl/Cmd + C), then I paste it, Edit > Paste (Ctrl/Cmd + C) in my current document. Now, while the artwork is still selected, drag it and move it into Swatch Palette. You should see your entire vector artwork/image as "New Pattern Swatch" in Swatch Palette. Now, you can use this image just as how you would use a Pattern Swatch in Illustrator, but remember since it is a image, it is not a seamless pattern and cannot be used for tileable purposes. You can also use a seamless pattern swatch for his text effect but, it will look very uniform, that is why I am using a vector image, so that all he letters looks a bit different but still have some uniformity as far as word is concerned.

Select the text with Selection Tool (V) and apply the Pattern Swatch, that we just created in Step 2.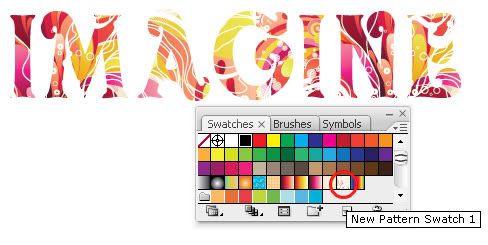 Tip: If you want some interesting part of your image/pattern to be shown, hold down the Tilde Key (~) while dragging the pattern filled text with Selection Tool (V) or rotate, scale or shear tool, at the most Selection Tool (V) will do the trick. If you want to know more about transforming Patterns, check my tutorial on Vectordiary.

Apply the Stroke to the text, by selecting the text. I applied a shade of pink (which I think I might change later and of course it is editable) with the Weight of 1pt.





We will create a another stroke which is a bit offset or away from the first stroke that we applied above. So, now it is the time to open your Appearance Palette if it is not already opened. I think Appearance Palette is the most important palette in Illustrator and should be opened all time for all your Illustrator projects.

Select the text with the Selection Tool (V) and on the Appearance Palette click on a button on Right and select Add New Stroke. Then choose the color of the Stroke, I choose same Pink as the earlier stroke. After that, goto Effect > Path > Offset Path from the Top Menu Bar. In the Offset Path Dialog Box choose the settings as you need, remember to click on Preview, so you can see the changes from different settings. I chose to Offset the Path to 5px and Rounded for Joins and Miter limit of 4.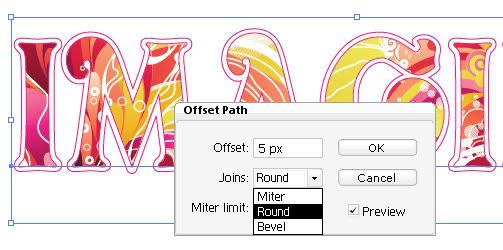 New Fill Color and Blending Mode

In the same way, now we will apply a New Fill to the text and then will apply Blending mode. So again Select the Text and from Appearance Palette, choose New Fill. For the Fill color I used a lil vibrant Gradient Swatch (which you can find from Illustrator's default Swatches named: Spectrum) I adjusted the gradient with Gradient Tool (G).

Still keeping the Text selected, I changed the Blending Mode of Gradient to Color. You can access the Blending mode from Transparency Palette (if not already opened find it from, Window > Transparency).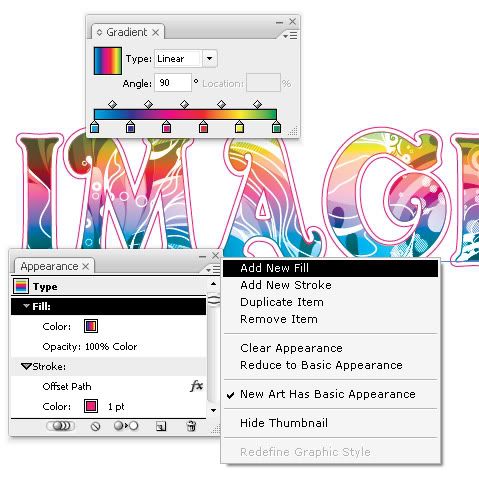 Tip: Try different Gradients or Solid fill colors and Blending Modes cause each blending modes will give different results depending on the image and fill colors you have chosen in Step 2.

One of the best thing about Illustrator is that, almost everything is editable. In this example at any stage you can change, text, fonts, pattern image, colors, blending mode, stroke weight anything that you want and for that Appearance Palette comes in very handy, it is like....what I would say a mirror? yes maybe because it reflects everything that constitutes a artwork. I am using CS3 but I have heard that in CS4 it has more advanced features, which is great! Here is how my text looks like after I changed stroke colors and weight, you can also see how all the attributes are reflected in Appearance Palette.




I tend to do a lot of experiments and in a quick image below, I changed, the text and Fill color just to see how it looks:





Below, you can see my final image, wherein I kept everything same as the image shown above except that I changed the Blending Mode to Multiply, adjusted a bit of Gradient fill, added some swirly vector elements to jazz up the text and added a background color and that's about it!




If you have any questions feel free to ask. Hope you enjoyed the tutorial, and of course stay tuned for more! :)